Golchuk
3D
inc.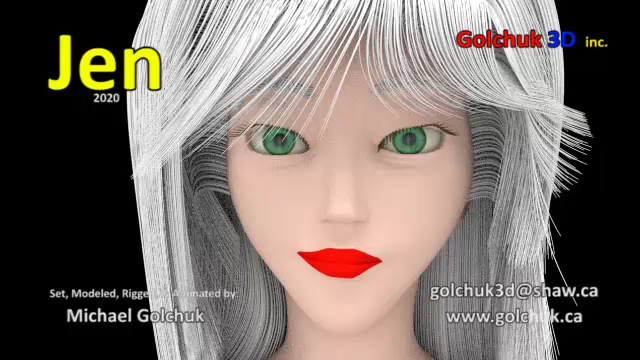 Golchuk 3D - The Studio
Hello, my name is Michael Golchuk. Welcome to my company Golchuk 3D Inc.
I am a producer of Short Story 3D Content.
3D Maya Artist
I am a licensed Maya Artist, using Arnold as my Render Output. This company has an in-house licensed 3 server Render Farm which I built to render out my projects in a reasonable amount of time.
Current Work - March 2021
Where we are now. I have been working on a one minute animated production for a while now. I recently took a break from 3D to build my business and build my Render Farm. The break was nice. Now, I am Animating. Basically, all my characters are built, the environment is complete, cloth is ready to go, hair is done.
So, these days I am Animating my characters. Pretty much going back to school to prefect my Animation skills. And because I took a break to build other things, I really am enjoying the Animation process once again.
Music
This company has an in-house music studio for creating original sound tracks, and music composition for production. Instruments include Guitar rhythm and lead, Keyboard, Base, Drums and Vocals. Digital Recording, Editing, FX, and Multi-track Production. I am a musician.
Film/Video
Film and Video. I use a Professional HD camera for in house filming - a Sony NX-Cam FS 100 35mm Video Camera, allowing us to set up as a direct studio feed into our computers. Great for Online presentations, and excellent HD quality. Voice is also patched into system for high quality HD sound.
Production
So with these wonderful tools I produce video content for my business and for my clients. 90 percent of my time is spent creating 3D. I built a music studio, and a film studio, for anytime use. I play all the instruments in my studio, and with digital technology, it may only takes me an hour or so to create a sound track for a production piece. I may do a video presentation, which usually takes no more than a hour to record. So, as a studio, the equipment is there, ready to go whenever I need it.
Location
Vernon, British Columbia, Canada
Business Hours
Monday - Friday, 8:00 am to 4:00 pm
Weekends and Holidays Closed.
Licensed AutoDesk Maya 2021 Company
Licensed Arnold Render User 2021
What do we do here?
3D Character Concept and Design, Modeling, Texturing and Mapping; 3D Character Rigging, Joint Based Facial Rigs with Blend Shape Extensions; 3D Character Clothing Design, 3D nCloth Animation, 3D Character XGen Hair and Fur, 3D Animation, 3D Environmental Design, Arnold Lighting, Sound, Script, Screen Play and 3D Production
Software and Plug Ins:
Maya 2020, XGen, nCloth, Arnold, Quixel, ZBrush, After FX, Premeire, Dreamweaver, Audition, and Photoshop.
Our Specialty of 3D
Hero Character Rigging and Design, Joint Based Facial Rigging, Environmental Design, and Production
3D Maya Artist / Inquiries
2018 Graduate Animation for Game. Film, and Visual Effects
Center for the Arts and Technology, Kelowna, BC.